April 26th 2011 - Issue # 16
In this issue you'll find...
What's Up?
Woolcrafting Update
Crochet Chat
Mark Your Calendars
What a crazy busy time (as usual)! Read on to find out what's been happening...
---
Whatís Going On?
Crazy days are here again! Yes, itís baseball time for the boys! You know, it wouldnít be so bad but one is in T-ball & the other is in Coach Pitch, so there are 4 practices all on different days! Thankfully hubby usually takes them and I get to stay home with the wee one.

Thing isÖonce it comes to the games thereíll still be 4 a week most weeks of May & June - some on the same day at the same time in different places. Wonít be long before heíll be playing too the rate heís growing, but at the moment I have to chase him around the field keeping him out of trouble. I canít yet sit & crochet while watching the game, but that day will come eventually (though it still feels a long way off at this stage).

Also Ė Iíve been singing in a choir, so leading up to Easter weíve had a lot of practices. I also sang a duet & a solo, so Iíve been flexing the old vocal cords! The duet was quite a feat Ė ĎPie Jesuí from Andrew Lloyd Webberís Requiem. Phew! Those high A-flats are not easy, but I have had fun with it and pushed my abilities. Except, Iím no early bird but I had to be at practice for 5.30am on Sunday (usually that hour doesnít exist for me)! A nap was definitely in order once the singing was over, but it was a lot of fun.
---
Woolcrafting Update
Since the last newsletter Iíve been busy designing a lot of new pieces (mostly knit though, Iím afraid). But, you can check out some great crochet work in the spring issue of Verena which is out this month. I am pleased to say that four crochet designs are featured in that issue! Not bad for a knitting magazine Ė theyíre certainly worth a look Ė very pretty indeed!

Later this year you can see a new design of mine in the 2011 special issue of Interweave Crochet Accessories. I donít want to spoil the surprise by saying too much here. However I do have to mention that the design was worked in a gorgeous Bijou Basin Ranch yak fiber yarn that I absolutely love!

Also, I have an afghan pattern which will be in a new book to be published by Interweave and I believe thatíll be out later this year.

Springtime is here and that means that many of us have babies on the brain. It is definitely the perfect time of year to get a baby item on your hooks. But what item should you create? Here are three terrific patterns for people who want to make baby stuff this season.
---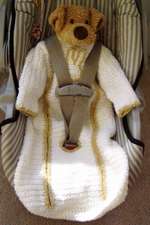 Baby Car Seat Sleepsuit Pattern. This sleepsuit has an innovative design that helps to solve a common problem that parents face when taking their babies out of the car. Many parents find that their babies fall asleep in the car and they face the dilemma of whether to risk waking the baby up by putting them in their PJs or just letting them sleep in their clothes. This sleepsuit solves the problem by providing a great little outfit that you can wrap the baby up in when you get into the car and then they can sleep in it if they fall asleep while youíre driving. The pattern is designed to work with normal car seatbelts. You can purchase the pattern on the site for $5.

---



Baby Car Seat Blanket Pattern. A nice alternative to the sleepsuit is a baby blanket designed to keep babies warm in their car seats. This blanket is designed with a slit in the middle that the seatbelt can be threaded through. When you pick up the baby, the blanket stays nicely in place. This pattern is available for free and would make a great spring gift for any baby in your life!

---



Octagon Baby Afghan. If you are looking for a more unique item to crochet for a baby then consider checking out the pattern for this octagon-shaped baby afghan. The unusual shape is eye-catching and makes a great one-of-a-kind gift. This pattern is also a Woolcrafting freebie.
---
Crochet Chat
Have you got to know the Crochet Liberation Front yet? This is a great crochet organization that started as something of a joke on Ravelry and has turned into a very serious group that does some great things for the crochet community.

For example, the Crochet Liberation Front holds the annual Flamies, awards that recognize the work of crocheters including pattern designers, bloggers and even lifetime achievements in crochet. The organization also hosts an annual crochet retreat. This yearís October Retreat is being held on Camano Island in Washington State and is designed around the theme of "contemplative crochet". What a great way for crocheters to get to know each other while refreshing themselves and the creativity of their work!

And another great big achievement of the organization recently has been that they have made some headway in getting yarn companies to pay attention to crocheters. Laurie Wheeler, the Fearless Leader of the organization, recently shared on the blog that a yarn company named Feza Yarns contacted her to say that sheís helped raise their awareness that crocheters feel that they arenít catered to by yarn companies and they wanted to ask her opinion on what they could do to help! Great work CLF!

Also - Crochet Concupiscence is a blog about all things crochet from crochet artists to crochet news. On Tuesdays the blog always does a crochet book review. Here is an excerpt from a recent review of 200 Crochet Tips, Techniques and Trade Secrets: An Indispensible Resource of Technical Know-How and Troubleshooting Tips by Jan Eaton.

"In addition to the general crochet information offered in this stitch dictionary, there are some cool parts of the book that I do want to highlight because I especially liked them. They include:
A section on crochet pockets. This is a really simple description of how to create numerous crochet pockets including round, triangular and curved pockets as well as pockets with buttonholes. What a useful bit of information for any crocheter who makes garments or even some accessories.
A section called "jazzy trims and fringes". This provides instruction for some really fun crochet work including striped spirals crochet, crocheted spirals with beads attached and corkscrew fringe. Iím not even sure what I would add these trims, too, but I love that I have the option of using something so fun when I figure it out!
Working Jacquard and intarsia patterns. This is something I rarely see in crochet books and often only hear about among knitters so Iím excited to see it included in crochet instruction form."
You can finish reading the review on the Crochet Concupiscence site at the links above.
---
Mark Your Calendars...
Do you love to crochet with wool? Or is this something that you would like to learn more about? There are several upcoming wool-centric events that you should add to your calendar.
---
Until next time...Happy crocheting and felting!

If you think a friend might be interested in this ezine, they can subscribe by visiting Woolcrafting.com.

Comments? Ideas? Suggestions? Feedback? Sock it to me! Let me know just what you'd like to see by replying to this ezine - tell me what you think.

Happy crafting, and please drop by regularly to see what fun new ideas Woolcrafting has in store for you.

Now grab that hook and go, go, go....

Best Wishes
from Jill Wright
http://www.woolcrafting.com