April 8th 2007 - Issue # 8
It's great to be back! Apologies for the slight delay in the delivery of this issue. Easter sneaked up on me and took me by surprise. Also the Yarn Harlot made an appearance at a local bookstore, and I just couldn't pass up a visit.

In this issue you'll find...
Yarn Harlot Takes Denver Bookstore By Storm OR I'm a 'sock virgin')
What's New at Woolcrafting.com
Sampler Poncho Or Lapghan
Stitch of the Month - 3 Stitch Cable Instructions
---
Yarn Harlot Takes Denver Bookstore By Storm
My friend Marly, a raving fan of Stephanie Pearl McPhee otherwise known as the "Yarn Harlot", told me that the Harlot herself would be appearing for a book signing at the Tattered Cover Bookstore in Downtown Denver.

She didn't want to go alone so I, being also a knitter, said I'd tag along. The whole night was well worth it. Absolutely. It was giggles from start to finish.

I couldn't begin to tell you everything that we laughed at that night - that would be a book in itself. Let's just say that we giggled and knitted all night. I didn't dare take crocheting - I'd have been lynched - so I decided I'd embark on a new knitting adventure and started my first ever knitted sock on 4 needles.

Marly gave me the yarn & what did she choose for me from her stash but size 2 needles and fingering weight yarn...for my first ever sock! What can I say? I don't wear glasses, but boy do I now feel like I need them now. I tussled with it until I found a comfortable way to hold what can only be described as 4 toothpicks and a reel of dental floss!

What a job I had. I'm used to knitting Scottish style with a needle shoved firmly under one arm, so I felt entirely ham-fisted and like a complete beginner. I was painfully slow at first literally juggling with these almost sewing needles and tatting thread.

I'm relieved to tell you that I'm more used to it now and at this point I have officially turned my first heel and am working towards the toe. Thankfully Marly loaned me a sock book, as I'd have been so frustrated not being able to work on it until next time we meet up. Wish me luck?

Oh - and the Yarn Harlot? I got carried away with sock-chat there...she was very entertaining. We bought her new book and had her sign them, and she also took a picture of us holding her famous "traveling sock". We hope to appear on her blog at some later date. If she's in your area she's well worth visiting.
---
What's New at Woolcrafting.com
Just to let you know about some new pages...

Try this new, fun felted bag pattern - are you a 'random' person - could you work this bag as I did?

Ever made a hat from a felted wool sweater? You can learn how to make a simple ski type hat or neckwarmer on this page.

And also...an article by a guest author about Etsy. Have you ever been interested in selling your hand crafted products online, but didn't want to use the Ebay auction method? Then an Etsy shop could be just what you need. Check it out.
---
Sampler Poncho Or Would You Rather Have A Lapghan?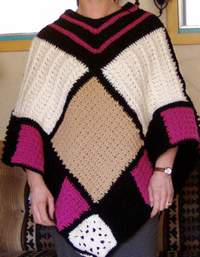 Well - this is the long awaited picture of my sampler poncho. Now, I decided it should be a poncho, but you can also choose to make a lapghan from your squares. I'll give you instructions for both, when the time comes, so you can decide which you'd like.

Your poncho - if you choose to do the same as mine - will actually only include 2 squares of the half daisy stitch worked in the previous newsletter. Sorry - my mistake - I had told you 4.

But, if you have already worked the extra squares you need not pull them out - you could make a bag to match your poncho. Maybe we'll do that too. If you'd like to make a bag from these extra squares, do let me know.

On the other hand (hope this isn't getting too confusing), you will need a total of 5 of the 10 inch half daisy stitch squares to make the lapghan. Phew - hope you're following this okay.
Stitch Of The Month - 3 Stitch Cable
This is the next stitch we'll be using for your sampler Poncho/lapghan. It's a pretty narrow cable that would look equally as good in an afghan as on a sweater. It's a good one to practice on if you're not familiar with cables, as the actual 'cable' part is only 1 stitch crossing 2 stitches.

Don't be alarmed - if you don't work the cable part of your front post double crochet stitches loosely enough,your work will tend to roll up from bottom to top as you go. If you can't get it to lay flat don't worry, once you get it joined to other squares it will lay just fine, but try to work the crossover 'post stitches' a little more loosely.

You'll need to know how to work chain, single crochet, double crochet, and front post double crochet.

Gauge - 13 sts X 14 rows = 4 inches with WW yarn & 5.5mm I/9 hook.

Abbreviations
ch - chain
dc - double crochet
ea - each
fpdc - front post double crochet
rep - repeat
sc - single crochet
sk - skip
st(s) - stitch(es)
So here we go with the 3 stitch cable instructions for a 10 inch square...
Ch 34, dc in 4th ch from hook and ea ch to end (32 sts), turn.

Ch 1, sc in each st to end, turn.

Ch 2 (forms first dc), dc, *sk 1, fpdc around ea 'post' of next 2 sc's of prev row, go back and work fpdc around sc below sk 1, dc in next 2 sts after cable, rep from * to end, turn.

Rep rows 2 & 3 for 10 inches, break yarn, finish off.
You will need 4 of these 10 inch squares for both the poncho and the lapghan. Honest.
Hope you had a happy time around Easter. Looking forward to sending you the next issue.
---
If you think a friend might be interested in this ezine, they can subscribe by visiting Woolcrafting.com.

Comments? Ideas? Suggestions? Feedback? Sock it to me! Let me know just what you'd like to see by replying to this ezine - tell me what you think.

Happy crafting, and please drop by regularly to see what fun new ideas Woolcrafting has in store for you.

Now grab that hook and go, go, go....

Best Wishes
from Jill Wright
http://www.woolcrafting.com