February 19th 2011 - Issue # 15
In this issue you'll find...
What's Up?
Woolcrafting Update
Crochet Chat
Around The Country
What a crazy busy time! Read on to find out what's been happening...
---
Whatís Going On?
Crazy days are here again! Wow Ė where to start? Well, as youíll see below Iíve been doing more designing . Itís so fun, but can be quite stressful at times - deadlines galore, yarn coming from everywhere, pattern writing and checking, as well as the fun part of making the items. Itís not as easy as folks might think, but I do enjoy it.

My boys are growing up fast. As you may have noticed on the blog, we have another son! Yup Ė 3 boys Ė talk about keeping busy. And the youngest is a little dynamo! Heís busier than the other two were put together! He started walking at 10.5 months and now heís running, climbing and generally getting into mischief constantly. If heís not sleeping or strapped in his table eating, then heís top speed around the house Ė pulling cereals out of cupboards, trying on everyoneís shoes, pulling videos off racks and climbing everywhere. I canít get a thing done while heís awake Ė itís all damage control!

My eldest is in 2nd Grade now and is an avid reader. He won a first place ribbon at the school science fair and got a 2nd place ribbon in the area science fair. He was thrilled!

My middle son is now in Kindergarten and loves it. Heíd be there every day if he could. He loves art and is really good at working with clay in his after school art class.

I made it to TNNA in January of this year (The National Needlearts Association trade show). It was amazing! Booth after booth of yarn, books, notions, accessories, publishers, editors, magazinesÖit was mind boggling! I met tons of people Ė designers (Kristen Omdahl, Robyn Chachula, Nicky Epstein, Debbie Bliss, Norah Gaughan to name a few), yarn company reps & owners, editors (Kara Gott Warner, Carol Alexander, Marcy Smith, Eunny Jang, Lisa Shroyer), etc. Fantastic! I even picked up a few books and some yarn samples for swatching. Iím hoping at some point in the future to have a few interviews with designers in this newsletter. Iíll see what I can do! It was an amazing trip to Long Beach Ė Iím hoping I get to go next year too.
---
Woolcrafting Update
Have you been wondering what Iíve been up to recently? There are three key projects that Iíd love to share with you: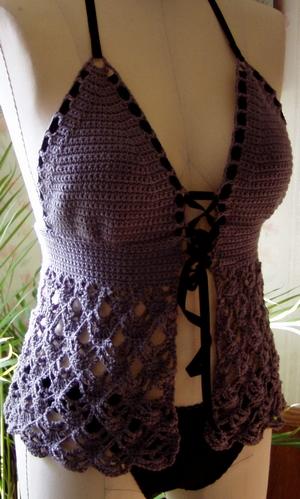 Baby Doll Top Ė All Tied Up Crochet Pattern. This baby doll top is so new that itís not up on the Woolcrafting site yet but you can purchase the pattern for $5.95 through Ravelry. Itís an ideal top for the warmer weather months ahead. If itís a bit too sexy for you to wear out of the house, it also makes a great intimate apparel item to cozy up in at home.




Coffee & Cream Diamonds Throw. This diamond design throw is created in neutral colors to match the dťcor of any home, making it the perfect item to crochet for yourself or as a gift for someone else. You can purchase the entire crochet kit for this throw from Mary Maxim including the Caron Simply Soft yarn that makes it so delectable to the touch.

Curvy Crochet. This Leisure Arts collection features eight lightweight crochet yarn designs specifically intended to flatter the fuller figure. Many women with curves find it difficult to wear crochet clothing because heavy yarn adds bulk in the wrong places on the body. I wanted to find a way to help these women enjoy the great look of crochet designs in a way that makes them want to show off their work! A motif bolero, an A-line vest and a ribbed waist tunic are among the designs in this booklet.
Also, if you are looking to create a handcrafted item that is rich in texture and elegant in design then you need look no further than crochet cables. This design immediately attracts attention whether you include on hats, scarves, clothing or afghans. Many crocheters worry that the intricate look of crochet cables means that they are hard to crochet but thatís not the case at all. Review the basic crochet stitches to make sure that you know them all then head to the Woolcrafting Crochet Cables Guide to learn exactly how to perfect this detailed design.
Once you have the basic design down, there are several variations on cables that you can play around with to achieve different textural effects. For inspiration you can check out the 8 patterns with cables that were highlighted in the Winter 2010 issue of Interweave Crochet. You might also want to check out Pamís Comfort Cables Afghan, an afghan of different cable squares put together by more than one dozen different crochet artists to lift the spirits of crochet designer Pam Gilette after a breast cancer diagnosis.
---
Crochet Chat - Granny Chic is In!
Those of us who crochet know that itís a lovely and versatile art used to create fashion and fabrics of all kinds. However, we also know that crochet has a bad reputation among the general project. Knitters often look down on it as the ďeasierĒ craft. Other fiber artists usually know little about it. And the larger worlds of fashion and interior designs associate crochet with the stereotypical garish 1970ís products done in stiff yarn that still make most of us cringe. But, people, the tides are finally changing. Granny chic is in and crochet is making a comeback all over design blogs and fashion runways.

As the name suggests, granny chic refers to the art of taking the old homemade items that Grandma used to adorn her home with and updating them with modern flair. Itís something that us crocheters have been doing forever and now the larger world of retro fans is starting to pick up on the trend. A home that shows off granny chic style may have vignettes that include glass cake trays and vintage wine glasses. It will definitely have some modern crochet work somewhere around the house. Afghans, throws and yes, even doilies, are gracing the homes of modern housewives all across the nation.

And even the most fashionable among us are adopting crochet looks when they leave the house these days. The spring and summer collections of the worldís leading fashion designers are laced with crochet. The look is 1970ís hippie meets 1990ís bohemian and crochet has a place in all of it. Gaultier, Ferragamo and Missoni are just a few of the expensive designers that have picked up their hooks and made crochet fashionable once again. Of course, weíve known the secret all along but itís nice to see others remembering what a great art crochet can be!
---
Around The Country...
Local craft shows are a great place to meet other people who are in love with wool and the arts around it. However, sometimes itís worth it to travel a little bit to check out the larger shows that are happening around the nation. This allows you to meet a larger community of yarn lovers, explore a vaster range of wool goods and take a little vacation at the same time.

Shows and events that are happening in February and March 2011 include:
Fiber Frenzy Retreat. Spend three days in a Kentucky Resort with other people who are obsessed with yarn! There will be yarn vendors, classes, and a fashion and project show that youíre welcome to participate in. When you arenít enjoying the love of fiber you can engage in other activities like archery, hiking and wine tasting.
Stitches West 2011. This event is a knitterís event but itís got room for some crochet lovers as well. There are classes in crochet and felting as well as vendors offering wares in the various fiber arts. Itís being held at Santa Clara Convention Center in California on February 17th-20th.
Yarn Crawls in Northern New Jersey and Portland, Oregon. The Great American Yarn Crawl is hosting several yarn crawl events this year and two of them are about to happen. The first is in Northern New Jersey from Feb. 19 Ė 21 and the second is in Portland, Oregon from March 4-6. Both events invite you to go from yarn store to yarn store, picking up stash and getting a chance to win yarn-y prizes. Incidentally there is also a Boston North Shore Yarn Crawl on March 10 Ė 13th that is a self-guided crawl not affiliated with the aforementioned two events.
10th Anniversary of the Missouri Fiber Retreat. This annual fiber arts retreat takes place in Jefferson City, Missouri on March 11-13. Crocheters, felters, knitters and other fiber artists are all welcome.
Woolapalooza at Drumlin Farm in Massachusetts. This might be a fun weekend getaway for yarn lovers. The drumlin Farm has sheep and will be showing you how they get herded, cared for and sheared to make the yarn that you love. The event itself only costs $8 and the experience is a unique one. Itís happening March 26th in Lincoln, MA.
Also, be sure to make your calendars for The Knit and Crochet Show for Summer. This twice-yearly event put on by the CGOA and Knitting Guild Association is not cheap but itís got a lot to offer if you can afford to go. The summer show is being held July 29-31st, 2011 in Minneapolis, Minnesota. Some of the things it features include a tour of the Minnesota Textile Center, a fashion show and crochet classes by Tracie Barrett, Joan Davis, Darla Fanton, Karen Klemp and more.
---
So - I'm designing galore - hopefully you'll get to see some of the fruits of my labor in more books & magazines soon!

If you think a friend might be interested in this ezine, they can subscribe by visiting Woolcrafting.com.

Comments? Ideas? Suggestions? Feedback? Sock it to me! Let me know just what you'd like to see by replying to this ezine - tell me what you think.

Happy crafting, and please drop by regularly to see what fun new ideas Woolcrafting has in store for you.

Now grab that hook and go, go, go....

Best Wishes
from Jill Wright
http://www.woolcrafting.com