Learn Basic Crochet Stitches!
Then get creative!
There are only a few basic crochet stitches to learn. Once you have the knowledge and skills you can become really creative. There are masses of crochet patterns, but they are all worked with combinations of relatively few basic stitches. Here's a list of those you need to know to form more complex patterns.
To the left is USA terminology, the right - UK terminology.
Some more USA/UK crochet terms are...
fasten off - cast off
skip - miss
gauge - tension
work even - work straight
yarn over (yo) - yarn over hook (yoh)
Only those basic crochet stitches to learn! Wow - doesn't that sound promising? Yes - the above 8 stitches open the door to multiple patterning opportunities. Some pattern types you can work in the above crochet stitches are...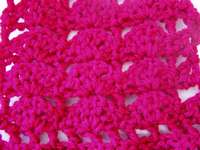 There are so many lace patterns I couldn't even begin to describe them. Suffice to say there's plenty to choose from once you know some crochet stitches. Try the V stitch pattern here. Lacy scarves are a fun and fairly quick project, whether you use a funky modern yarn or a luxury alpaca or cashmere yarn. Here's how to work shell stitch.
If you'd like to try a filet pattern, then you need to be able to follow the pattern on graph paper. Filet is basically made up of crochet stitches and gaps which usually create a picture. It can be as simple as a heart or as complex as flowers or animals. You would usually work filet in a cottonor smooth and very fine yarn so the 'picture' would show up clearly.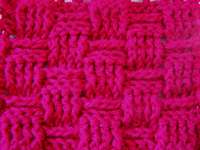 Textures - I love textures! I like them all - cables, basketweave, loops, shag pile, ladders, chevrons. It's great that they can all be worked with so few crochet stitches.
Clusters, Picots and Popcorns are all 'bumpy' patterns. The stitches are worked in the same way as the other patterns, but to form the bumps you often have to leave several crochet stitches on the hook and finish them off together. It will all become clear when you try some out!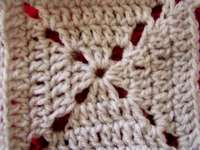 Lastly, often called Granny Squares (probably because Granny was always the one making them) are quilt squares. As the name suggests, they are individual squares - lots of them - which are then joined together at the end.
Projects with squares are fun because the squares aren't big enough to get bored with. You just start one, then it's done! Great for when you're pushed for time - only a few minutes to spare in between loads of laundry or feeding baby!
Of course you don't have to make them into a quilt...you could do a scarf, a vest or a bag. The possibilities are almost endless!
Start here for Chains and Single Crochet.

So - to sum up...all you have to do is learn a few basic crochet stitches and then you have all the skills you need to try more complex patterns. In fact, once you know how to form a chain stitch, all the other stitches are formed the same way, just in different combinations.
Don't be put off - get stuck in and you'll be creating masterpieces in no time! There's no time like the present. Grab a hook and get practicing!


Learn double and treble crochet techniques.
Here's where you try the fun crochet loop stitch!
Return to Homepage from Crochet Stitches