May 7th 2007 - Issue # 9
Hi, It's newsletter time again. Where do the months go? Honestly, time really is just running away with me. Next thing I know the year will be half over and I'll be preparing for Christmas. Yikes!

Nope - let's put that aside just now. I mean, we're still getting snow here in the Colorado mountains - Spring storms. The rivers are gushing like crazy - close to washing the edge of the road out in some spots. Still - just as long as this moisture (understatement) helps us avoid forest fires in the Summer, I'll be happy.

In this issue you'll find...
Brown Sheep Field Trip
What's New at Woolcrafting.com
Special Offer on New Purse Pattern Booklet
Stitch of the Month - Front Post Half Double Crochet
---
Brown Sheep Field Trip
Oh, I'm getting so excited. Why? Well - next week I get to go on a whole day field trip to Brown Sheep Wool Co. in Mitchell, Nebraska. Woo-hoo! I just can't wait!

The bus leaves The Cottage Yarn - a local yarn store in Littleton - at 8.30am (I MUST make it there by 8am just to be sure)! I say that because I'm NOT a morning person, not even a little bit, and it takes me 45 minutes to drive to the yarn store.

Now, that may not be bad for some, but for me - a night owl, that means getting up around 6am! Aaaargh! I'll probably end up not sleeping the night before due to excited anticipation.

Anyway - the drive should be about 4 hours, so that leaves us (30 intrepid adventurers a.k.a. yarn junkies) about 3 or so hours to roam longingly around the mill and touch, stroke and generally drool over and enjoy all their luscious yarns! Sheer bliss! The day after Mothers' Day - a whole day off to be with yarn and yarn lovers. What could be better, I ask you?

I'll let you know how it all goes in the next issue. Hope my credit card doesn't buckle under the strain!
---
What's New at Woolcrafting.com
You can now find out about felting in a front load washing machine and about increasing in crochet.

Apologies that there are just 2 new pages, but I am going to work harder on getting you more new information to you again.
---
Special Offer on New Purse Pattern Booklet
Now here's something you might like. Are you interested in purses? Remember a few months back I said I'd be putting out some new felted purse patterns? Well - the first new booklet is officially out!

Yes - the only way you can reach the new patterns page right now is through this newsletter issue. I wanted to offer it to you first, so, not until you have had a chance to check it out will I offer it to everyone else.

Let me tell you more...the booklet includes 3 felted crochet purse patterns. Each has a different handle style and a little something to make it stand out from the crowd.

I am offering this pattern booklet to you at a discounted price of only $3.50 for a limited time only - until the end of May. On June 1st the price will be increased and the patterns will be available to everyone else. So - hurry and take a look! Maybe you could make one for your Mom for Mothers' Day?

So - CLICK HERE to check out my new purse patterns! And don't forget - this crazy price (less than a Starbucks Latte) is only available until midnight May 31st.
---
Stitch Of The Month - Front Post Half Double Crochet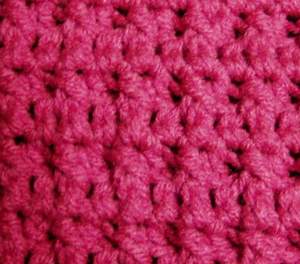 This is the next stitch we'll be using for your sampler Poncho/lapghan.

You'll need to know the following stitches and abbreviations...
ch - chain
ea - each
fphdc - front post half double crochet
hdc - half double crochet
sk - skip
st - stitch
Post stitches are explained here, but if you worked the previous stitch of the month squares you should be a pro by now. Instead of working a double crochet like last month, use a half double this month and you'll be just fine.
The following stitch counts should give you a 5 inch square suitable for use with your sampler poncho or afghan. Here goes...
Ch 17, hdc in 3rd ch from hook and ea ch to end, turn (16sts).

Ch 2, hdc in ea st to end, turn.

Ch 2, (fphdc around next hdc of row below, sk st behind fphdc, hdc in next st) to end, turn.

Rep last 2 rows for 5 inches, finish off.
For the Sampler Poncho you will need 8 of these squares and if you're working on an afghan you'll need 12 of these squares.
---
Well - that concludes this months' issue. I hope you're enjoying practicing these new stitches. There will be plenty more in the months to come.

Do let me know if you're working along with me on a poncho or afghan. Also - if there's something special you'd like to see, please get in touch.

Don't forget to check out the new purse patterns!

I hope you have a wonderful Mothers' Day and Memorial Day, and I'll write again soon.

If you think a friend might be interested in this ezine, they can subscribe by visiting Woolcrafting.com.

Comments? Ideas? Suggestions? Feedback? Sock it to me! Let me know just what you'd like to see by replying to this ezine - tell me what you think.

Happy crafting, and please drop by regularly to see what fun new ideas Woolcrafting has in store for you.

Now grab that hook and go, go, go....

Best Wishes
from Jill Wright
http://www.woolcrafting.com