Felted Crochet Purse Patterns
Volume 1
Why not try Felted Crochet Purse Patterns Volume 1? This cool booklet includes detailed instructions for all 3 of these fun purses featured on this page. Yes - that's right - all 3!
All worked in worsted weight yarn, these purses are just begging for you to try them out. Can you hear them?
These 3 purses measure between 10 and 14 inches square - finished size. They each have a different twist on the same basic shape.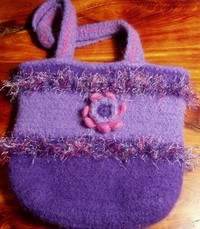 The purple purse has a cute flower on the front and 2 handles, which are long enough that they will fit over your shoulder or arm, or you can just casually swing it in your hand.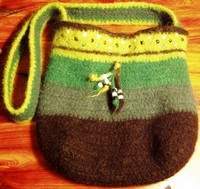 The shades of green beaded top bag has a long shoulder strap that you can wear over one shoulder or sling diagonally across the body. Find out how to add beads to your felted bag without having to thread them onto your yarn before you start.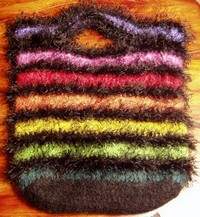 And lastly...the rainbow fun fur purse. Isn't it adorable? Using only a few yards of several colors you can make this classy designer bag. These handles are worked all in one, so no extra ends to finish. Perfect!
So - how do you make these purses? Easy - just click on the "Buy Now" button below to find out, and you can have the Felted Crochet Purse Patterns Volume 1 downloaded directly to your computer right now! No trawling bookstores or libraries - get your own copy now without delay.
You know...these little treasures are just perfect for Mothers' Day which is just around the corner. Start now and you might just finish one in time.
3 unique patterns in Felted Crochet Purse Patterns Volume 1 - how can you go wrong?
$5.00
NOTE After payment, on the "Thank You for Purchasing" page you MUST click Return to Merchant to be directed to the download page.
Return to Felted Wool Purses from Felted Crochet Purse Patterns Volume 1