November 20th 2007 - Issue # 13
In this issue you'll find...
I Met Annie
Kim Werker and Crochet Me
Woolcrafting Update
Stitches?
What a busy time I've had lately, between singing (that's a whole other story), classes and book signings I've had a wonderful time this last month. I just can't wait to tell you all about it.
---
I Met Annie Modesitt!
Well - I found out Annie Modesitt was going to be in Denver at the end of October and managed to squeeze into one of her classes. Unfortunately, it wasn't crochet - she didn't do any crochet classes this time out (who knows why) - but it was fun to learn a new knitting technique.

The class was about what she calls "Double Knitting" which involves knitting in the round on straight needles. Very interesting, if a little tricky at times, but a good time was had by all. It would have been nice to learn more, but there wasn't space in the next class. Oh well - maybe next time.
---
Kim Werker and Crochet Me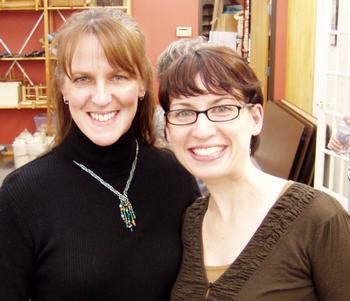 At the start of November I also got to meet Kim Werker, author of the wonderful new book Crochet Me, owner of the website www.crochetme.com and Editor of Interweave Crochet. How exciting!

Yes - I discovered she was having a book signing and chat at Shuttles, Spindles and Skeins (a yarn store in Boulder, CO), so I called up Marly and off we went.

What a lovely person Kim is. I introduced myself, as I arrived early, and as soon as I said my name, she gasped and went to give me a great big hug. This amazed me! She remembered my name as my pattern is due out in the Winter Issue of Interweave Crochet which will be out any day now (I'm so excited to finally see it in print). So - she dashed off and sneaked me a peek at the new issue - it looks just great!

Anyway - once we'd had a chat more folks arrived and then she started talking about the book - Crochet Me: Designs To Fuel The Crochet Revolution. Now, if you haven't seen it - hit this link and check it out. I loved it so much I just had to review it so I can pass on my frenzy for this super cool book. As I say in my review it's way more than just a book of crochet patterns.

And so - Kim talked about how her website Crochetme.com began and then how the book came about. She was so easy to listen to that I left feeling empowered to bring the craft of crochet to the forefront again. To drag it out from knittings' shadows and promote crochet as a viable way to make hip, fashionable clothing again.

I want so much to join the "crochet revolution" and show that it's not only capable of producing afghans, tea cosies and boxy sweaters. That with the right yarns, hooks and patterns crocheted clothing can equal and surpass the look of knitting in texture, drape and style. (Can you hear my soap-box voice coming out?)

So - I had a fantastic evening, was recognized by an idol of mine and had a fun and empowering evening listening to crochet talk. It was an absolute blast!

You can see pics of me wearing a couple of the items featured in the book if you go here to the Crochetme.com Blog. Scroll down to the entry titled "Denver Part 2 - It was really Boulder". Both the cardi and the shrug were very comfortable, very warm, and worked in the most beautifully soft yarns.

So - if you get a chance to hear Kim talk - DO IT! She's great & SO animated and enthusiastic about crochet. If not - check out my review of Crochet Me:Designs To Fuel The Crochet Revolution and empower yourself to take crochet to the next level! Vive La Revolution!
---
Woolcrafting Update
In the not too distant future I'll be inviting you to contribute to the site in a fun way. How can I do that, you ask?

Well - I'll be setting up a gallery where you can post pictures of any projects you might have made from my patterns. You'll be able to comment on others projects too and maybe say how you liked the patterns, whether you changed anything, etc. This will make the site a little more interactive than it is now.

I'll keep you posted as to when I set that up and I hope you'll join in the fun.
---
Stitches?
A few weeks ago I was asked by a visitor how they could make a simple shell edging wider, so I built a new page to show you a few ways you can do that.

It may not be a new stitch entirely, but you could use the ideas for a skirt or a peplum or maybe the bottom of a cardigan; a short sleeve, a or simply the edge around a baby blanket or afghan. Use it as you wish.
---
And so ends another issue. I hope those of you who celebrate Thanksgiving have a Happy one. And to those who don't...stay happy and think about which pics you'll be sending me once I get the 'Woolcrafting Gallery' going!

If you think a friend might be interested in this ezine, they can subscribe by visiting Woolcrafting.com.

Comments? Ideas? Suggestions? Feedback? Sock it to me! Let me know just what you'd like to see by replying to this ezine - tell me what you think.

Happy crafting, and please drop by regularly to see what fun new ideas Woolcrafting has in store for you.

Now grab that hook and go, go, go....

Best Wishes
from Jill Wright
http://www.woolcrafting.com