Crochet Me!
The New Way Ahead For Crochet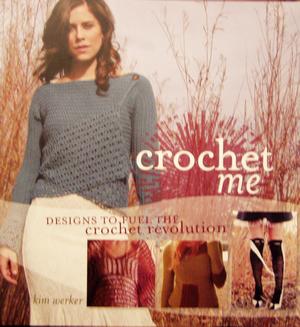 Have you seen Crochet Me - the new book by Kim Werker, Editor of Interweave Crochet? If you haven't seen it yet, then drop whatever you are doing and find a copy immediately.
Perfectly named "Designs to fuel the crochet revolution", this book is just tremendous. Packed with 18 designs by brand new designers Crochet Me
brings crochet back into fashion in a new and hip way.
These wonderful designs range from knee high fishnet stockings to a circle design rug, from a light and airy swirl inspired sweater to a wrapover mini skirt, from a pretty empire line dress to a felted crochet messenger bag with a neat twist.
These great designers have considered fashion, wearability, drape and functionality in these must make designs.
Intermingled among these cool new fashion conscious designs are quirky and fun essays and interesting insights into the designers who dreamed up these patterns.
You'll also find strategically placed instructions for various techniques used throughout the book.
The layout is totally different from any other crochet pattern book I've seen, and it really can't be categorized as just another "crochet pattern book". It's a really great read too.
These patterns are fresh, young and hip and just begging to be made! I rarely find a book where I like more than a couple of designs. Here, there are no less than 6 designs I feel I just HAVE to make right away and I just can't wait to get started.
Designers include Annette Petavy, Amy O'Neill Houck, Kristin Omdahl, Carol Ventura and more.
Projects have a concentration rating rather than the usual beginner through advanced ratings. This should be less off-putting to those who are just setting out on crochets' path.
Going back to the title - that really spoke to me...Designs to fuel the crochet revolution! That tells me that the author wants to bring crochet to the forefront of the crafting world and keep it there.
Rather than having crochet "in" and "out" of fashion as has been the norm, wouldn't you want to bring in fresh new ideas and designs and have a constant flow of quality patterns that will stand the test of time?
YES??? ME TOO!
Why not check out this fantastic book, Crochet Me
, and make it an addition to your crochet library? You know you want to!
Return to Crochet Book Reviews