Jill Wright's Beautiful "Diamond Sage Wrap"
by Judith
(Virginia, USA)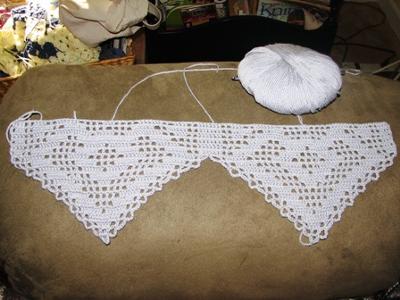 Start of the "Diamond Sage Wrap"
Diamond Sage Wrap in "Interweave Crochet" summer 2008.

I love knitting, crochet and many other arts/crafts. In recent years, I've had a fascination with lace knitting. However, crochet was the very first art I learned and it will always be my first love.

Recently I was very happy to find, Jill Wright's "Diamond Sage Wrap" as it used lace weight fiber and is a crochet pattern. I knew I had to put this beautiful design on my "To Do List". After looking through my stash, I choose a few fibers to try but either didn't have enough yardage or didn't like the results of the swatch.

However, determination was on my side and I found a yarn at the LYS that with a few modifications would work well for this project. I chose to use "Lace Merino Silk: by Karabella". As I swatched the first point, I used these measurements to determine what modifications I would need to make using a different yarn than the pattern indicated.

My wrap will be two panels wide. As I am a very small person this should suit me just fine. I am enjoying this project immensely and would like to share with any others working on this project. I would love to find others that would like to be a part of a crochet along (CAL).

Anyone else mesmerized by this beauty?