Crochet For Charity
All In A Good Cause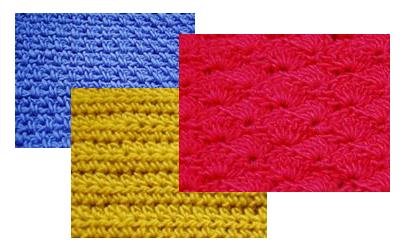 Do you crochet for charity? Many, many people do, but how do you find out who needs what, where to send stuff, and how to get in touch with the people who matter?
Well, now you can tell everyone who you crochet for, what they need and why. It's really easy - just fill out the form below and tell us all about your favorite charity crochet projects.
Here are a few that I know about to get the ball rolling...

If you love to crochet squares, then Knit-A-Square.com is asking you to make brightly colored 8" squares to send to Africa where they will be made into blankets for children. All the details you need are on site, telling you what they need and where to send the finished items. As well as squares they are asking for crochet tops which are very easy - they have a pattern available on site. Click on over and lend a hand (or a hook) whenever you can!
Laurel Hill, a company which produces some of THE most beautiful crochet hooks I've ever used, has partnered with a charity called Knots of Love. They ask for chemo caps for those going through the harrowing ordeal of chemotherapy. Laurel Hill sells kits complete with everything you need to produce a hat for someone in need.
If you crochet for a certain charity or your charity needs crocheters help, then please take the time to let us know so we can do what we can.
Just fill out the form below and soon your charity will have it's own exclusive page built on Woolcrafting.com.
If you don't let us know, we can't help you!
Do You Crochet For Charity?
If you crochet for a charity and you know they need assistance, then let us know! We can't help out if we don't know.

Tell us...who do you crochet for? What does your charity need? Where do the finished items go? Who benefits from the crocheted items? etc.

PLEASE NOTE - only list legitimate charities requesting crocheted items. Charities listed must have a website and should be easily traced online. All charity information posted will be checked out thoroughly before the page is posted online.


What Other Visitors Have Said About Crocheting For Charity
Click below to find out what other charity crocheters are chatting about...