Laurel Hill Crochet Hooks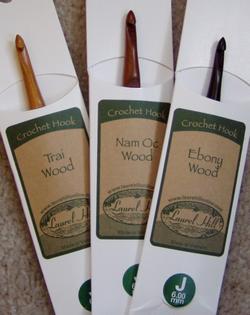 Laurel Hill crochet hooks are just fantastic. I mean, just look at the photo here to see how gorgeous they are.
Not only are they gorgeous to look at, but they're really well made from a natural source that feels great in your hands.
Here are some points which won me over...
No snagging as they're sanded perfectly smooth
No spinning in your hand as they're made with a thumb/finger rest (very comfortable to use)
No splitting the yarn you're using
Pointed head allowing you to 'hit the hole' with minumum fuss
Beautiful exotic natural woods including

Ebony - deep dark brown
Nam Oc - medium reddish brown
Trai - light brown

Incredibly smooth, warm to the touch and light weight too
Sized in the most popular size range - D-3.25mm to M-9mm
Hand crafted from a sustainable source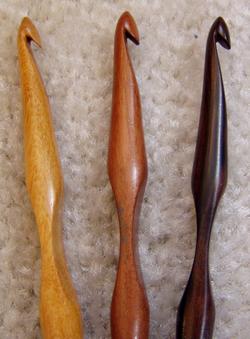 One of the samples I worked to test these hooks was with 2 strands of sport weight and I had no problems whatsoever grabbing both strands of yarn together.
I think the neck of the hooks may be just a fraction wider than their same sized aluminum counterparts and the hook part is shaped somewhat similarly to the Susan Bates hooks with a flatter look.
All in all they're incredibly easy on the hands and easy on the eyes.
You can find these incredible hooks and more at Laurel Hill Online.
Try them I think you'll love them as much as I do!
Return to Crochet hooks from Laurel Hill Crochet Hooks