Merino Wool
Soft, Fine and Versatile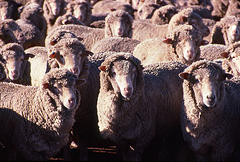 Merino wool is a wonderfully soft, highly sought after fiber. It grows on sheep specifically bred for their fine, warm fleece.
This wool is often made into technical underwear and clothing to be worn in layers by climbers and outdoor sports enthusiasts. These merino lovers appreciate the ability of the wool to wick away and absorb moisture from the body, as well as the fact that it can also feel cool in warmer temperatures.
Merino wool is equally at home worked into high fashion items and often appears adorning models sashaying the catwalks of Italy.
I do so
love
this wool. I love the way it feels as I work with it - smooth and soft. It also felts wonderfully well due to the fineness of the fibers. It is one of the faster felting wool fibers, but you can blend it with other fibers to slow the felting process or just experiment.
The production of this adorable wool is a primary industry in Australia, New Zealand and Tasmania where the merino breed originated. They are responsible for producing approximately 350,000 tons of fiber annually! I can only imagine that much fiber in my dreams! That actually satisfies 80% of all demand for this incredible wool.
Oh, it's such a wonderful fiber, and so spins into a fabulous yarn, soft as silk, very durable, cosy warm and breathable too.
Another thing I love about merino wool is that it is a 100% natural, entirely renewable and biodegradable fiber. It doesn't take 1000's of years to decompose as man-made fibers can.
Did you know it naturally has a UV protection level of greater than 50? Now, that's amazing.
Something else amazing is that it can absorb moisture up to 27% of its' own weight.
Merino wool is also...
flame retardant
odor resistant
stain resistant
water resistant
naturally elastic
available in machine washable and dryable forms
Truly incredible and so versatile. I can't speak highly enough of this stuff.
You simply must try working with merino wool or wearing it, or both. At least go and search some out at your local yarn store and just touch it. It's divine! I feel sure you'll love it as much as I do.