Vogue Dictionary of Crochet Stitches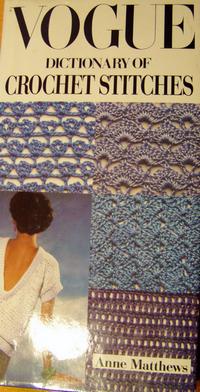 The Vogue Dictionary of Crochet Stitches is a great book. It is packed from cover to cover with loads of crochet stitches both old and new.
It's 192 pages include basics, simple patterns, textures, multi-color, openwork and lace, puff, picot and cluster patterns, popcorns, filet, tunisian, collars and edgings, medallions and quilt patterns as well as just a few patterns.
At the back is a section covering techniques such as stitches, methods, shaping, buttonholes, seams
This book was published in 1987 and is no longer in print, but you can still buy it (at a very reasonable price) if you shop around.
This Vogue book has served me very well. It was the only book I had on crochet stitches for a very long time and I was never stuck for options. I still refer to it today, even though my library has lately expanded quite substantially.
Some of the patterns are obviously dated by now, but some are still wearable also.
Something I think is very useful in this book is the list in the back of foreign laguage terms in French, German, Italian and Spanish. How often have you spotted a great pattern online, only to find that you haven't a clue how to read the pattern as you don't speak German? But I now wish they would cover Japanese and Ukrainian too after lately discovering some most excellent crochet stitch dictionaries and magazines.
This book is nevertheless a great reference for beginners and I'm sure still contains stitches that would interest intermediate crocheters too. All in all a great buy, especially if you're on a budget.
Vogue has more recently published their "Stitchionary" series, in which there is a crochet stitch book - Vogue Knitting Stitchionary Volume 4: Crochet.
Return to Crochet Book Reviews from Vogue Dictionary of Crochet Stitches