Crochet Twisted Tassel Edging
Be Flirty And Fun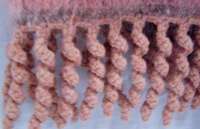 Ever heard of crochet twisted tassel edging? Maybe not - that's what I call it anyway. It's a fun stitch you can use to edge a flirty skirt or poncho, a fun wrap or shawl, or a fancy scarf.
I know - I say everything's easy. My Mom used to laugh at me when I said that, but now she's so into crocheting she knows it's true.
Anyway - one of my earlier projects was this multi-colored crochet jacket which I LOVE. It's as warm as a coat as I worked it in mohair and lined it too. It's so colorful that I decided it needed a fun edging to stay with the theme.
Here's how to work the crochet twisted tassel edging...
You'll need to know how to work chain and single crochet, also double crochet and slip stitch.
First of all work a row of single crochet along the edge you want to 'tassel'. Either join with a slip stitch or turn, depending whether you're working right around something or just across the end of maybe a scarf.
Chain 1, work 1 single crochet then chain 10 (or whatever length you want your tassel to be), chain another 2 to act as the first double crochet, then work 2 double crochets into the 3rd chain from hook, work 2 double crochets into each chain until you reach the top again. (Your tassel will be 20 double crochets [plus the 2 chain acting as a double crochet]).
At the top of the tassel skip 1 single crochet and join to the next single crochet with a slip stitch.
Slip stitch across next 2 single crochets and then work another tassel.
You'll be joining a tassel to every 1st and 3rd single crochet then working 2 slip stitches, so that's a pattern repeat of 5 stitches. This way your tassels will hang and swing nicely and not bunch up.
If you find that they are still too close when using a thicker yarn - slip stitch an extra stitch in between tassels and see how that looks.
So - there you have it - it's the 2 double crochets in each chain that cause the twist. It's a really fun edging for when you're feeling frivolous!
This crochet twisted tassel edging works best in a smooth yarn. The tassels work out nice and even and twist well when there are no slubs or bumps in the yarn.
I decided the mohair that I used for the jacket I made was too hairy and wasn't heavy enough so I chose an aran weight acrylic as my border yarn.
Choose a yarn that suits your project. These tassels would look great in a variegated cotton or maybe a silk blend.
Use a couple as a hair decoration by attaching them to a barrette or pony tail holder. You could even make earrings out of one or more twists using stranded cross stitch cotton or wire.
Use one at each end of a drawstring waist so you'll never lose the ends down the holes again! Try putting them on the ends of ties at the neck of a cape or at the bottom of earflaps on a kids' hat.
...or how about working them down one front edge of a lacy wrap, then push them through the lace holes to help hold it closed instead of buttons.

I hope you enjoy your crochet twisted tassel edging. What masterpiece will you create with this fun little stitch?
Why not let me know what you make via my contact me form and you can get a picture and mention on the site.
Have you tried the crochet rope edging - aka Crab Stitch?
Return to Homepage from Crochet Twisted Tassel Edging