Free Crochet Scarf Pattern! Yours right now!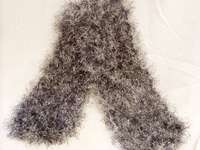 As promised, here's a free crochet scarf pattern for your own use.
It's a real easy one, but because of the yarn I used it's very effective.
Yes - I used an 'eyelash' yarn - one of those cool furry looking yarns - Lion Brand Fun Fur (I've seen it as low as $2.77 per ball).
This scarf looks really thick, but it only uses one strand. It's the open pattern that makes the scarf look thick, but it's very light in weight and drapes beautifully!


Here we go with your free crochet scarf pattern instructions...
Hook size: I/9 or 5.50mm
Fun Fur (any color) 2 x 50g balls (64yds each)
Gauge - doesn't really matter this time
Stitches used - chain stitch and double crochet
Chain 23 stitches (foundation chain).
Work a double crochet into the 5th chain from the hook, *chain 1, skip one foundation chain, double crochet into next foundation chain. Repeat from * to last 2 foundation chains. Double crochet in last foundation chain, turn.
Chain 3, *skip chain stitch then double crochet into top of double crochet stitch below, chain 1. Repeat from * to end of row ending with double crochet into turning chain of previous row, turn.
Repeat row 3 until you run out of yarn or until you reach the the length you want.
Pull end through last loop and finish. Weave in ends with blunt needle.
Shake out scarf to 'fluff up' and it's ready to wear!
Be sure you finish off at the end of a row, not in the middle. If you don't have enough yarn to finish a row, then pull back to the end of the previous row. You don't want a scarf with a lumpy end!
So - that's it for your free crochet scarf pattern. See - great for a beginner - the only hard part is working with the eyelash yarn. The 'eyelashes' make it hard to count stitches and sometimes to see where the next stitch should go.
---
Beginners may want to go with a chenille yarn. Chenille is a yarn that has a thread-like twist in the middle and the short soft fuzz sticks out of both sides of the center thread.
Chenille is usually a cotton, acrylic or polyester blend. It makes really nice scarves too - lovely and soft! You can see the mesh that the stitch pattern creates and it's easier to find where to put your hook!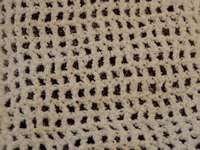 Be very careful washing chenille! Follow the instructions on the ball band! It's quite a fragile yarn - treat it gently or you'll lose your lovely soft fuzz!
This stitch sample is shown in chenille. A totally different look than the eyelash, but still very effective.
TIP - Check the yarn labels for a picture of a crochet hook. Check the hook size recommended for use with that yarn. If it's the same as the pattern requires, then the yarn will work!
You're not just limited to using the yarns I suggested above for your free crochet scarf pattern. A cotton yarn would give a very defined stitch pattern. You could go the other way and use a brushed yarn or mohair. The brushed hairs fill in the holes like the 'eyelashes' do - but you get a more subtle look.
As for colors - there are no rules. What colors do you like to wear? Choose a color that tones with your coat or jacket, or try a contrast. My Mom always says, "A good contrast is better than a poor match!" I wholeheartedly agree! Don't try to match 2 shades of red - chances are it won't work - go for a contrast instead.
Well - I'll leave you to enjoy your free crochet scarf pattern now. Have fun with it! I'll bet you'll make more than one!!!
See my other free patterns - maybe you'll want to try those too!
Want to try crocheting a scarf in wool then felting it?
Work this free crochet hat pattern to match your scarf!
Return to Homepage from Free Crochet Scarf Pattern