Small Zigzag Join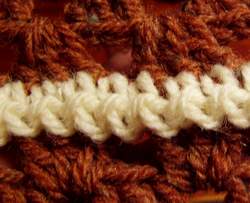 I call this the Small ZigZag join, as that's just what it looks like.
Your 'need to know' stitches are...
The join goes like this...
Lay 2 squares next to one another right side up. I find it easier to have them at an angle.
Push your hook through the right hand corner of the edging of the square nearest to you (square 1), yarn over and bring to front to form loop, ch 1, sl st into adjacent corner of other square (square 2).
Come back to square 1 and sc in next st, then sl st in next st of square 2. Repeat along whole edge - sc in square 1 edge, sl st in square 2 edge. Break yarn, finish off.

It truly is that easy! Give it a try - I think you'll like it too.