The Collaboration Cardigan
by Tamara
(Toronto, Canada)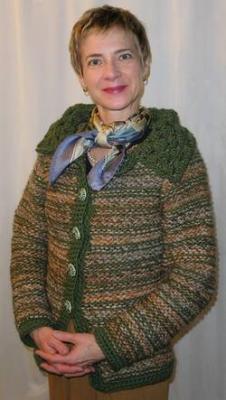 Collaboration Cardigan with crochet edging
I worked some crochet edgings on my Collaboration Cardigan, which is an interpretation of Marie Wallin's design called "Heather" (from Rowan's Country Escape pattern book). I've used 2 Rowan yarns: 'Country' and 'Little Big Wool'. The weights are not quite identical, but the finished garment did not seem to be affected.

The main part of the garment is knit in garter stitch, but the collar and edgings are crocheted.
While I have some experience with both knitting and crocheting, I have never combined the techniques on the same garment. Even though Marie's instructions are quite detailed, I found myself somewhat anxious when it came time to add the crochet edgings.

That's when Jill came to the rescue and initiated the collaborative process. She encouraged me to "just do it"...and reminded me that it's so much easier to pull out crochet than knitting.

I am thrilled with the final result. It's warm and cosy...just perfect for the freezing Toronto winter which we are having this year.

I now feel inspired to reinterpret existing patterns for knitting: instead of casting on and starting with a ribbed edge...and instead of picking up and knitting front and neck edgings (a process which I dread)...I now look forward to experimenting with my new found crochet confidence.

I also look forward to taking advantage of Jill's generous sharing of crochet patterns.
Next on my project agenda is Jill's Lattice Scarf with the twisted tassel fringe. I have reached into my stash and pulled out a cotton/viscose/acrylic blend in a lovely butter yellow colour. I think that it will be a perfect spring scarf.