Free Lattice Scarf Pattern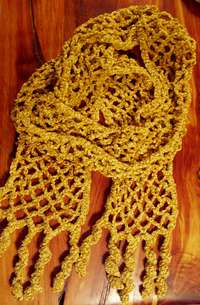 Hope you like this lattice scarf pattern - it's so easy you'll be wanting to make another in no time.
It's easiest to work in an acrylic, but of course I had to try something different and opted for 6 ounces of a sport weight chenille instead. I used a 4mm hook.
You'll need to know these stitches too...chain, single crochet,slip stitch andtreble crochet.
Don't worry about gauge with this scarf as it's such an open lacy pattern.
Try any type of yarn for this pattern. The smoother the yarn the better you see the stitch work. The choice is yours - it all depends on the look you want. Now let's get to the instructions - this is how I did it...Chain 30.
Slip stitch into 10th chain from hook, *chain 5, skip next 4 stitches, slip stitch in next chain, repeat from * ending with slip stitch in last chain. Turn.
*Chain 5, slip stitch in 3rd chain of each 5 chain space, repeat from * 5 times, chain 3, treble in last stitch. Turn.
*Chain 5, slip stitch in 3rd chain of each 5 chain space, repeat from * 5 times ending with slip stitch in last stitch. Turn.
Rows 2 and 3 form the pattern repeat. Repeat these rows until your scarf is the length you want, then ending with a row 3 continue as follows...
Working across one end of your scarf (4 single crochet,1 X 15 chain twisted tassel, 4 single crochet in each 5 chain space) 5 times.
Then working down the length of the scarf work 4 single crochet along each treble or 3 chain space skipping over the joins.
When you get to the next corner work across the other end of the scarf as row 5.
The last edge is worked as row 6, slip stitch to first single crochet and finish off.
Only one end to finish off in your lattice scarf pattern - how's that for convenience? Try different yarns for different looks - cotton,silk, variegated acrylic, you could even try working it in a lighter weight wool and felting it.If you're using this last option - don't forget about the shrinkage - it'll be about 30% with such an open pattern maybe more depending on how felted you want it.
Really you can use any weight of yarn and any size hook - just remember that the finer the yarn the lighter and narrower the scarf. The thicker the yarn, the bulkier and wider the scarf. Don't you think it would look as great on a window trim as around your neck?
There you go - give it a try - you just might like it.