Easy Thread Bracelet Pattern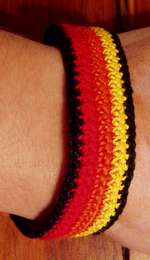 Try crocheting this easy thread bracelet pattern. It's so simple you'll have it finished in no time. You'll be wanting to make them for all the youngsters you know, and maybe even yourself.
The sample I made is worked in size 10 thread on a size 7/1.65mm steel hook.
You only need scraps of thread for this pattern - it's so neat and easy. I used red, orange and yellow for the band (2 rows each), then finished with a single crochet row right around in black.
Sizes are for 6, 7 and 8 inch long, 3/4 inch wide bands. Ties make them longer. 6 inch bracelet will fit up to 7.5 inches, 7 inch - up to 8.5 inches, 8 inches - up to 9.5 inches (anklet size). Work the same instructions for each size..


Your gauge should be 9sc X 10 rows = 1 inch.
You'll need to know chain, single crochet and slip stitch.
Abbreviations
ch - chain
sc - single crochet
sl st - slip stitch
Here we go with this super easy thread bracelet pattern...
Chain 55 (64, 73), sc in 2nd ch from hook and each ch to end, turn (54, 63, 72 sts).
Every row, Ch1, sc 54 (63, 72), ch1, turn.
Work 6 rows total, then without turning join in edging color. Ch1, sc all around the edge of your band, working 3sc into each corner, join with sl st to starting ch then finish off, weave in ends.
For the bracelet ties - Cut 6 X 6 inch lengths of thread. Group 3 together and hook through center sc along short end. Bring 6 ends of thread together. Separate threads into 3 pairs and braid to about 1 inch from the end. Tie single knot, trim ends. Repeat for other end.
Your easy thread bracelet pattern is now complete! I told you it was easy, didn't I?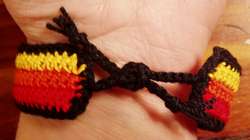 Tip - if you're new to working with thread...keep a good firm tension on your thread, or you'll have your stitches slipping off your hook and you'll become frustrated. Also - a good tension keeps your stitches looking nice and neat and uniform.
For wider bracelets - work more rows in groups of 2.
For narrower versions - work less rows (in 2's). The narrower your bracelet the more it will twist - try steaming it to lay it flat.
This easy thread bracelet pattern would look great in any colors. Usesolid colors or single rows of stripes instead of doubles. Try shadesfrom white through lilac to purple, or pale pink to shocking pink. Really anything goes!
Guys will go for this 'friendship' style bracelet too in the larger sizes - use darker shades, blues, greens, natural, browns, black, reds? Sky's the limit - well - your stock of thread's the limit really.
Who will you crochet this easy thread bracelet for? I'm sure it won'ttake you long to think of someone who would like it. See how many you can make from one ball of thread - bet it's a LOT! Enjoy!
Crochet this cute 'car seat sleepsuit' as a baby gift
And a scarf to match


Return to Homepage from Easy Thread Bracelet Pattern